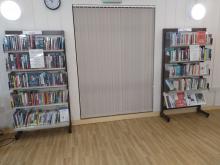 The village hall also has a volunteer run library in the small hall where you can borrow books using your Surrey Libraries card. (see also entry on bookshare).  
Beare Green Community Link Library is generally open on Mondays 2:00 to 2:20pm.  You may like to check with Hilary Christmas <hilary.christmas [use the at symbol] tiscali.co.uk>  01306 713107 before you come, to be certain.  
We have 500 books including large print which can be borrowed free of charge for three weeks.