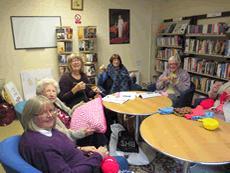 The local kitting group is suspended at the time of writing but usually meets every second and fourth Monday from 11am for knitting fun, coffee and a chat. Experienced knitters and beginners welcome.
Bring your current knitting project, or come and knit for charity.
Please ring Lyne Ford on 07979443628 for more information and to check if we are meeting at the moment (covid).