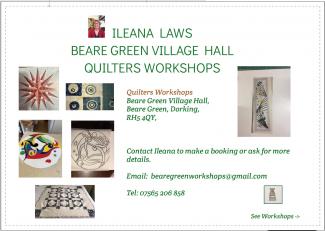 Classes in quilting at the village hall will start in September on Thursdays. 
On 15th July from 11:00 to 12:00 we will be outdoors with a gazebo at the village hall discussing what these will be like and showing potential members the main hall (6 at a time max).  For details call 07565 206858 or email Ileana on bearegreenworkshops@gmail.com 
The "design and make a quilt" workshops are 10am to 4pm on 2, 16, 30 Sept, 14 Oct, 18 and 25 Nov, 2, 9 Dec
£265 early bird rate until 15th July inclusive, then £285
There is also a show and tell from 10am until after lunch 16th December with pot luck lunch for £10
Other "quilt-friendly workshops" are 10am to 4pm at £40 per session on 9th September (Mariner's Compass : foundation paper piecing), 23rd Sept (using your walking foot part 1), 7th Oct (using your walking foot part 2), 21st Oct (making an advent calendar) and 11th Nov (conquering binding and borders).